Ever have one of those days where everything is going wrong? That happened to me last Monday so I decided to bake a '
f*%k you Monday
' cake.
I had a lot of Pink Lady apples in the house so decided to make my
f*%k you Monday
cake my entry into the
October challenge
from
The Pink Whisk
where the theme was apples.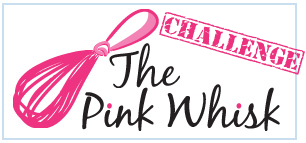 I based the cake on one of my favourites from the new Cake Days book from the hummingbird bakery - the apple streusel cake. I have made this twice before - once with apples and once with lemon and blueberries (this was
amazing
!). The cake is easily adaptable, which is the reason I love it so.
For this one I added one of my favourite ingredients to the apples -
Speculoos
spread. The recipe below is my adapted recipe - for the original please see
Cake Days
.
Streusel Topping:
1 tsp cinnamon
40g cold unsalted butter, diced
70g soft light brown sugar
70g plain flour
Sponge:
60g unsalted butter at room temp
100g caster sugar
140g plan flour
1 large egg
1 tsp
vanilla extract
1 tsp baking powder
pinch salt
80ml milk
3 pink lady apples
Speculoos spread (optional)
Preheat oven to 170 . Grease 8 inch tin (I line with
parchment circles
from Lakeland and brush with
cake release
).
First make the streusel. Put flour and cinnamon into a bowl. Add the butter and rub until they resemble breadcrumbs. Stir in sugar and set aside.
Now the cake - cream together the butter and sugar until light and fluffy. Add the egg and vanilla extract and mix again, scraping down the sides of the bowl to ensure everything is thoroughly mixed.
Sift the flour, baking powder and salt and add half to the creamed sugar and butter, followed by half the milk. Mix well on medium, scraping down the sides frequently. Repeat with the rest of the dry and wet ingredients.
Pour the batter into the prepared cake tin.
Peel, core and slice the apples into thin(ish) slices. Arrange on top of the cake batter, and if using dollop spoonfuls of Speculoos on top of the apples, before sprinkling with the streusel topping to form an even layer.
Bake in over for about 35 - 45 mins - until golden brown and a skewer inserted into the middle comes out clean.
Leave to cool in tin, the scoff with a cup of tea, and some cream/ice cream if you choose and your Monday blues will disappear.
Sorry about the photos - it was a dark and dank day in my New Cross kitchen (f'ing Monday) and our light was all being blocked by scaffolding outside!